Sandymouth offer a hearty breakfast and lunch menu, filled with family favorites, designed to help you refuel and explore your breathtaking surroundings.
Our specials menu is freshly prepared and updated daily in order to offer you the freshest local ingredients straight from the Atlantic or North Cornwall's lush green fields.
We also offer a plethora of fresh cakes, hot beverages, a welcoming atmosphere and truly majestic views of Sandymouth Beach's coastline.
Please check out our Facebook page for more information on specials of the week!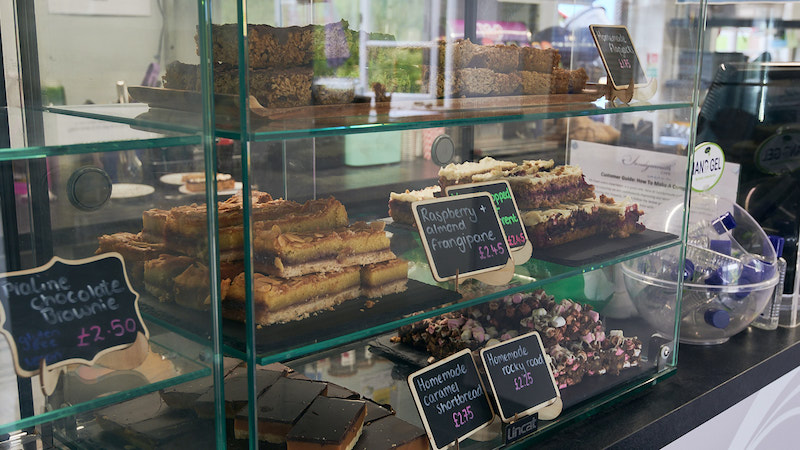 Fresh from the sea or the North Cornish fields, we make the best of today's local produce
Sandymouth Full English
2 bacon, 1 local sausage, egg, tomato, mushrooms, hash browns, beans and toast, £9.95
Sandymouth Mini Full English
1 bacon, 1 local sausage, egg, tomato, beans and toast, £7.95
Sandymouth Vegetarian
2 Veg sausage, egg, tomato, mushrooms, hash browns, beans and toast, £9.95
Breakfast Sandwiches
On brown, white or gluten free
Bacon, £4.95.   Veggie Sausage, £4.95.  Sausage, £4.95.  Fried Egg, £4.95
Add egg, rasher of bacon, sausage, £1 each
American Pancakes
Bacon and maple syrup, £6.95
Kids Beans on Toast
On brown or white toast, £3.95
Toast with Butter, Jam or Marmalade
Two pieces of brown or white toast, £2.95

Brisk or breezy sustenance for vigorous walks and relaxed chats
On brown, white or gluten free bread, served with salad leaves and crisps
Luxury Crab (Seasonal), £14.95
Cheddar & Cornish Chutney, £7.50
Tuna Mayonnaise, £7.50
Gammon Ham, £7.50
Prawn & Marie Rose, £7.50
Chicken & Bacon, £7.50
Served in a burger roll with salad leaves. Add cheese +£1 or bacon +£1.50
Angus Burger
Served with spicy tomato chutney, £11.95
Sandy Stack Burger
Two burgers, bacon and cheese, £14.95
Sandymouth Surf Burger
Angus burger, bacon, egg, cheese & spicy tomato chutney, £13.95
Chunky Chicken Burger
Served with bacon, cheese and BBQ sauce, £13.95
Buttermilk Chicken Breast Burger
Served with mayonnaise, £10.95
Sandymouth Vegan Burger
Served with vegan mayonnaise, £10.95
Hot Dog
With onions, £6.95
JACKET POTATOES SERVED WITH SALAD
Served with salad leaves
Cheddar Cheese, £8.50
Baked Beans, £8.50
Chilli Con Carne, £9.50
Tuna Mayonnaise, £9.50
Prawn & Marie Rose, £9.50
Red Pepper & Aubergine Chilli, £9.50
Served with salad leaves and crisps
Brie & Cranberry, £7.95
Bacon & Cheese, £7.95
Tuna, Red Onion & Cheese, £7.95
Ham & Cheese, £7.95
Chicken Caesar Salad, £9.95
Falafel Salad, £8.95
Greek Salad, £8.95
Caesar Salad, £8.95
Chicken Caesar Salad, £9.95
Falafel Salad, £8.95
Greek Salad, £8.95
Caesar Salar, £8.95

Kid's Lunch Boxes
£4.50
Cheese & Tomato Pizza
£4.25
Macaroni Cheese
£5.95
Chicken, Lettuce & Mayo Wrap
£4.95
Kids Hot Chocolate
£1.95
Kids Luxury Hot Chocolate
£2.75
Fresh Ice Cream Milkshakes
(Topped with cream)
Strawberry / chocolate / banana, £3.95

Cappuccino, £2.95
Latte, £2.95
Flat White, £2.85
Americano, £2.60
Espresso, £1.90
Macchiato, £2.20
Mocha, £3.30
Tea, £1.95
Herbal Tea, £2.20
Hot Chocolate, £3.25
Luxury Hot Chocolate, £3.95
Kids Hot Chocolate, £1.95
Kids Luxury Hot Chocolate, £2.75
Chocolate Bar Milkshakes
£4.50
Fresh Ice Cream Milkshakes
(Topped with cream)
Strawberry / chocolate / banana, £3.95
Afternoon Tea (or coffee +£1)
Plain or Fruit Scone
Clotted cream and strawberry jam, £5.50
Alternative milk +50p. Add a syrup +50p